Cooperative Extension Service San Miguel County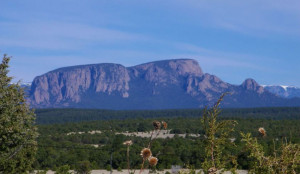 San Miguel County is one of the largest counties in New Mexico, comprised of approximately 3 million acres. The county's total population is 27,760 and has a median income of $26,524. Approximately 77% of the population is Hispanic. Beef cattle ranching is the single largest private business, with an estimated 35,000 head of cattle in San Miguel, which ranks the county 11th in the state. There are 565 farms in the county with an estimated 2,091,643 acres throughout these farms.
The two major employers are the Las Vegas Medical Center and the New Mexico State Department of Transportation. There is a high percentage of WIC, Food Stamp and Social Service Clientele. The Montezuma Castle and the Rough Rider Museum are two county attractions, not including the historic district and numerous historic buildings.
Local Calendar

4-H Facebook
#discoverNMSUextension

Have a favorite NMSU Extension program or story? Share with us how NMSU Extension has impacted your life.
San Miguel County Extension Office
PO Box 2170 West Branch
20 Gallegos Road
Las Vegas, NM 87701
Phone: 505-454-1497
Fax: 505-425-9099
Email: sanmiguel@nmsu.edu
URL: http://sanmiguelextension.nmsu.edu/